"Devote yourself to prayer, being watchful and thankful."

Colossians 4:2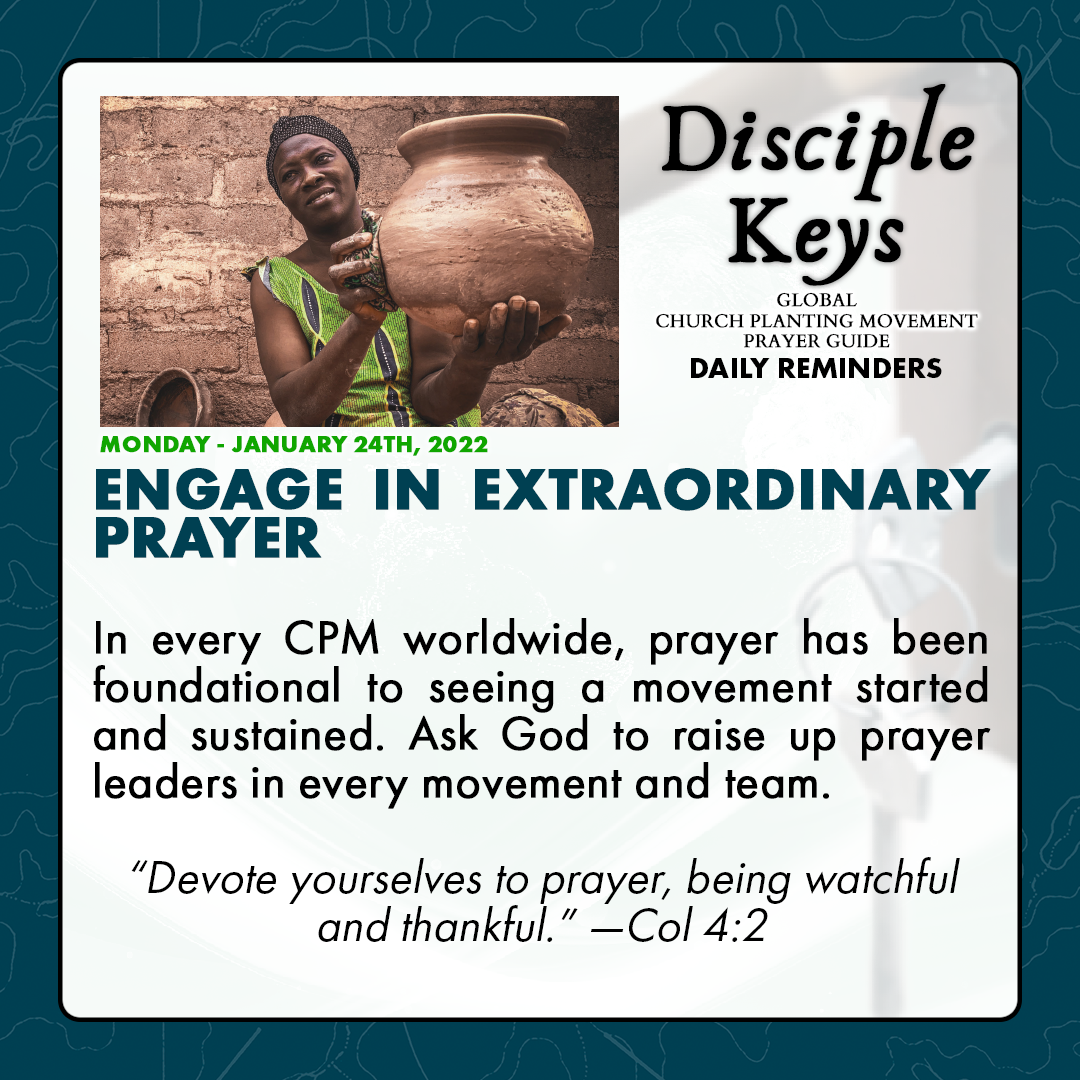 This week's movement principle is to: Engage In Extraordinary Prayer. In Colossians 4:2 the apostle calls us to "Devote ourselves to prayer, being watchful and thankful." We, as believers and followers of Jesus Christ, will only be as effective as our daily prayer life is active. In every Church Planting Movement worldwide throughout history and in our modern days, prayer has been and is the key to starting them and seeing that they continue and grow.
As followers of Jesus Christ, we are meant to rejoice always, to pray continually, and to give thanks in all circumstances for this is God's will for us. And, as Christians, if we are to mature and grow in our walk with the Lord as well as expand the kingdom through church planting movements, we have to devote ourselves to prayer, and not just prayer, extraordinary prayer.
So what is extraordinary prayer? Extraordinary prayer is the kind of prayer that is both daily and continuous. Extraordinary prayer bridges the gap between us and heaven. Extraordinary prayer takes into account what Jesus said to us. "Whatever we ask in My name, if you believe you have received it, it will be yours." (Mark 11:24) Extraordinary prayer takes into account the size of the building you are trying to build and those prayers become the deeper foundation to support that building's construction.
We are commanded to pray on all occasions, so let everything call you to prayer. Let prayer become like breathing to you. Let God teach you how to live a life of deep communication and connection with Him. Learn to walk in conversational relationship with Him so that your spirit is fully in tune with His Holy Spirit at every moment.
The FREE PDF is available for download in English, Spanish, Russian, German, Tagalog, Mandarin (Simplified and Traditional), Portuguese, Bahasa, Bengali, and Thai. More languages coming soon. If you would like to help with the translation of Disciple Keys into a new language, please email disciplekeys@gmail.com.