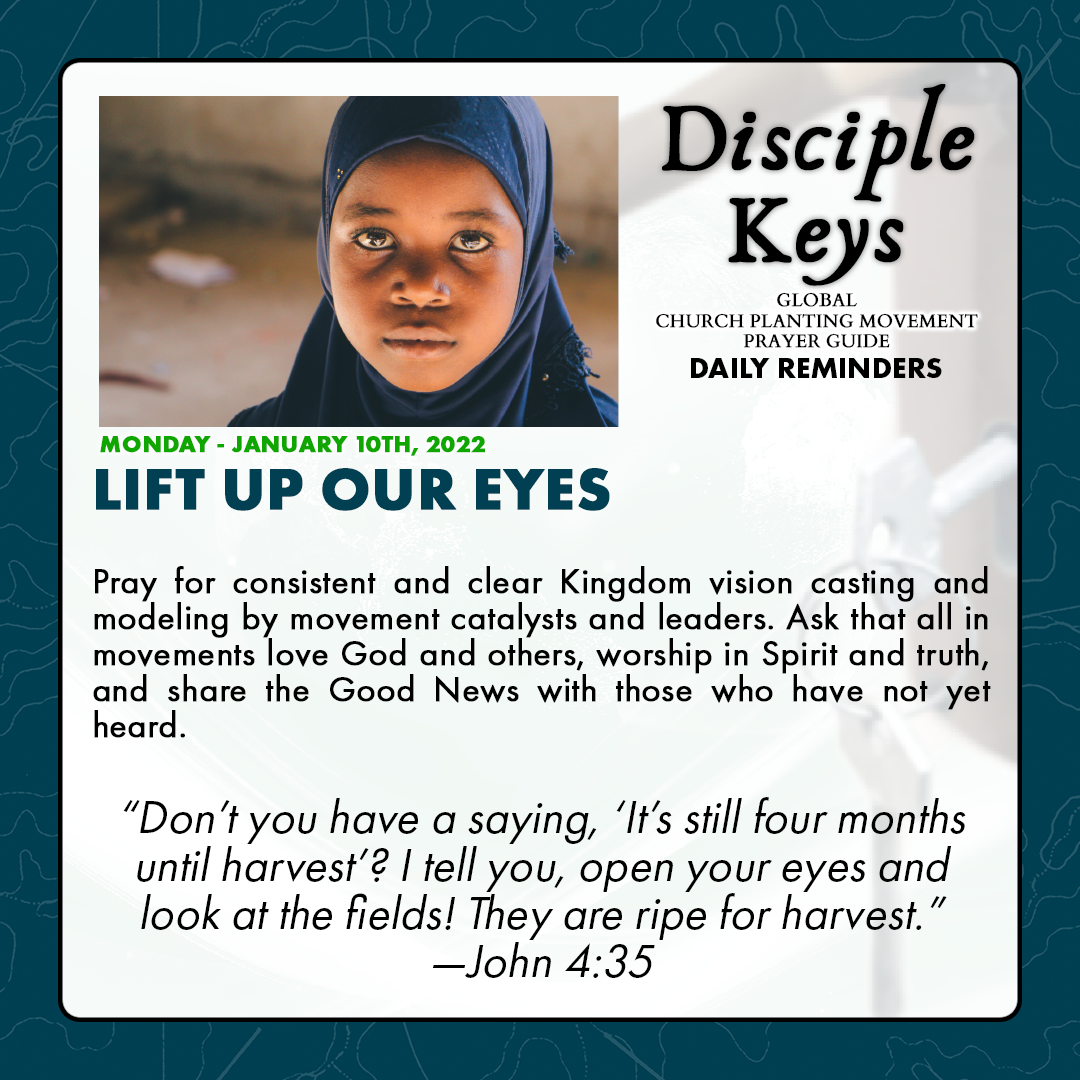 This week's movement principle is: 'Lift Up Our Eyes.'
In John 4:35, Jesus tells the disciples to 'lift up their eyes'' to see the harvest all around them already ripe for harvesting. What was Jesus saying? The Kingdom of Heaven is at hand. That is, God Himself is already at work to prepare hearts to hear and receive the good news of the gospel, that Jesus was there and is here now. And Jesus saves people. Our job as His followers is to share that good news with the world around us, be it next door or around the globe. Our prayers prepare the way and partner with the Holy Spirit as He prepares hearts. We can get before the God of the universe and ask Him to send out workers into those ripe harvest fields.
As we pray, the Holy Spirit prepares us to be His witnesses. Jesus was telling His disciples, and us, that our hearts should be in a continually state of observing eternal realities. The salvation of your neighbor is on God's heart. They are an eternal being created by God to be His child, just like you.
So, pray! Share the good news! Be bold! Get before God's throne of grace and ask Him to bring in that ripe harvest and to send out workers. You can do this by simply spending time with God and as your relationship with Him grows, so will your heart of love for those around.
This week ask God to help you and others take the steps of faith which eventually launch church planting movements. Ask God that every believer would get the clear vision of the Great Commission. Ask God that all the active movements of His Holy Spirit around the globe multiply and spread until the whole earth is filled with the knowledge of the glory of God.
The FREE PDF is available for download in English, Spanish, Russian, German, Tagalog, Mandarin (Simplified and Traditional), Portuguese, and Bahasa.