"In love of the brothers be tenderly affectionate to one another; in honor preferring one another; not lagging in diligence; fervent in spirit; serving the Lord;"

Romans 12:10-11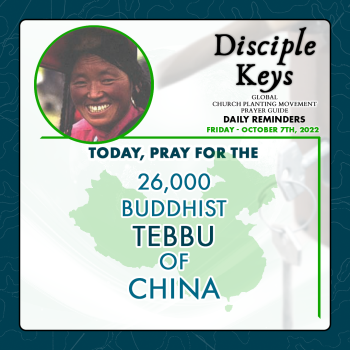 Today's verse is an encouragement to press on in love toward one another and those you are sent out to reach with the gospel. Discipling others requires diligence and perseverance. By living with God closely in our own lives, we can guide others into that journey as well. As we grow in maturity, we can go out as another "Living Coal" to make new "hot coals" around the world. Ask the Holy Spirit today to fill you with patience and kindness toward those God has put in your life to disciple. Be a person that makes new disciples. Multiplying movements will naturally result as we listen and obey God's voice. Then, encourage mature leaders and their families as "hot coals" to cross cultural and geographic barriers with the Good News to those needing to hear.
Disciple's Prayer for Today:
"Father, thank You for always hearing me and responding to my prayers. Give me an understanding of this "hot coals" strategy and how I am to cultivate my life and others to be set ablaze by Your Holy Spirit of power. I love You, Lord, for all You do and say. Keep moving in my life and make me a fruitful disciple maker for You. Help us be sensitive to Your instructions as to when and where we go to be "hot coals" igniting new movements to Jesus. In Jesus' name I pray, Amen."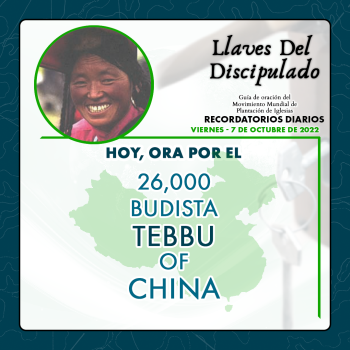 Prayer for the Unreached of the Day:
"Father, thank You for giving me the great gift of bowing before Your Holy throne to bring my requests to You. Lord, Great King of heaven I ask that You bless the 26,000 Buddhist Tebbu peoples of China with salvation in Your Name, Jesus. I speak and declare the blood of Jesus over each one of these beautiful people. You see each one and You love each one. You are the one who knows each of their hearts and You treasure them. Bless them with salvation and a reconnection with You as You sow "hot coals" from other movements in their midst! Then in due time, sow "hot coals" from these new movements to launch new movements in other groups with little witness. In Jesus name I ask, Amen."
Learn more about the today's unreached people group by clicking the link provided in the Free Disciple Keys PDF.
Listen to the companion Podcast now available on Anchor, Spotify, Apple, and Google.
The FREE PDF is available for download in English, Spanish, Russian, German, Tagalog, Mandarin (Simplified and Traditional), Portuguese, Bahasa, Bengali, and Thai. More languages coming soon. If you would like to help with the translation of Disciple Keys into a new language, please email disciplekeys@gmail.com.