"But solid food is for the mature, who because of practice have their senses trained to discern good and evil."

Hebrews 5:14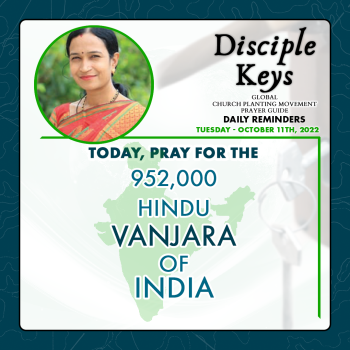 How can you accomplish the Great Commission with what God has given you? Modeling, assisting and then launching disciples produces multiplying movements to Jesus. Multiplying movements have the heartbeat of discipleship at their core. Their DNA is to raise up and train others to be released to go and do likewise. This is the fiber of the living church of God moving across the earth today: multiplication. Ask God to show you how best to train those around you: your family, your friends, and those you serve.
Disciple's Prayer for Today:
"Father, I want to be guided by You and so filled with You that all that pours out of me is of You. I want to be a beacon of light for Your kingdom on this earth! Make me a person marked by communion with You. Make me a House Of Prayer for all the nations! In all the unique ways you've created me, may I be a vessel fit for Your use. , I want to be trained by You to be an effective disciple that becomes a fruitful disciple maker. Help me realize those you entrust in my care are meant to grow and be released to train others. In Jesus name I ask, Amen."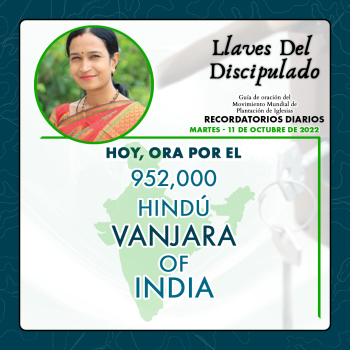 Prayer for the Unreached of the Day:
"Father, look down on the 952,000 Hindu Vanjara peoples of India. Send forth Your Holy Spirit to draw all these people into Your loving arms today. Bring revival among them today. Give them grace and mercy to find You through Jesus today. Open their eyes to see Your hands moving in their lives today. Fill these people's land with life and love. As followers of Jesus multiply, help them learn early to train and release believers to multiply other effective disciple makers for Your glory. In Jesus' Name I Pray, Amen!"
Learn more about the today's unreached people group by clicking the link provided in the Free Disciple Keys PDF.
Listen to the companion Podcast now available on Anchor, Spotify, Apple, and Google.
The FREE PDF is available for download in English, Spanish, Russian, German, Tagalog, Mandarin (Simplified and Traditional), Portuguese, Bahasa, Bengali, and Thai. More languages coming soon. If you would like to help with the translation of Disciple Keys into a new language, please email disciplekeys@gmail.com.