"...and teaching them to obey everything I have commanded you. And surely I am with you always, to the very end of the age."

Matthew 28:20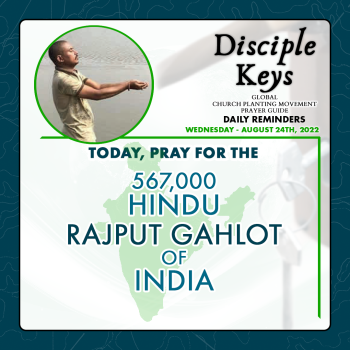 Jesus instructs His disciples not simply to pass on information about Him and His Kingdom, but to teach to obey everything He commanded. His emphasis is on obedience-based discipleship. We are not gathering converts but apprentices who learn to walk and talk like Jesus, Our Teacher. Every single person you touch with the gospel is another person that becomes a living stone in the Body of Jesus Christ. Ask the Holy Spirit to keep you focused on hearing and obeying all that Jesus commands and reproducing that in others' lives. As fellowships gather, love God and one another by putting all His commands into practice. In this way, we keep our focus on living stones, not on bricks and mortar.
Disciple's Prayer for Today:
"Jesus, You commanded me to obey and teach to obey all You commanded. Thank You that You promised to always be with me. Living Your life means I'm abiding in Your presence and only doing what I see You show me, just as You only did what Father showed You. Keep my focus on multiplying obedient disciples that go and do likewise. In Jesus Name, Amen!"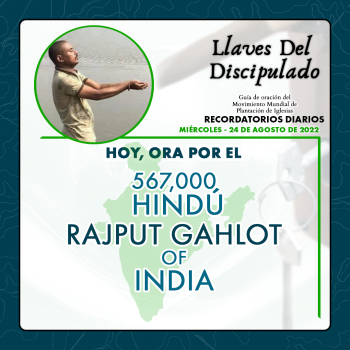 Prayer for the Unreached of the Day:
"Father, open the eyes of the 567,000 Hindu Gahlot Rajput peoples of India, to see Jesus. Open their hearts to the truth of Your gospel. May Your will be done on earth among these people as it is done in heaven. Let obedient disciples multiply obedient disciple makers in every place among this group, in every generation. As Your Body is built up for Your glory, thrust out laborers from the Gahlot Rajput to other groups around to share Your love and light. Holy Spirit, prepare many hearts to receive Jesus. In Jesus name I ask and pray, Amen!"
Learn more about the today's unreached people group by clicking the link provided in the Free Disciple Keys PDF.
Listen to the companion Podcast now available on Anchor, Spotify, Apple, and Google.
The FREE PDF is available for download in English, Spanish, Russian, German, Tagalog, Mandarin (Simplified and Traditional), Portuguese, Bahasa, Bengali, and Thai. More languages coming soon. If you would like to help with the translation of Disciple Keys into a new language, please email disciplekeys@gmail.com.